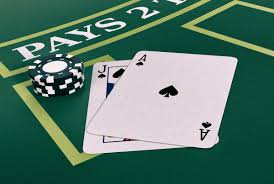 Blackjack is the only casino table game that involves skill, and which, therefore, may be played using strategy. There are many different forms of Blackjack, however all are basically the same in that each Player competes against the Dealer in each hand. The point of the game is to get 21 or as close to 21 without going over (busting). If anyone goes over 21, they automatically lose that hand. In Blackjack an ace is worth either 1 or 11 points, all numerical cards are equal to their point value, and all picture cards are worth 10. Any 10 or picture card with an ace are worth 21 and an automatic winner.
Each person is dealt 2 cards to start and then may elect to take additional cards, as long as they do not bust or reach 21. Games such as Spanish 21 and Pontoon have been inspired by Blackjack.
Bonus Bunker has assembled important information forBlackjack players. Blackjack is the most popular casino card game in the world. This perennial land-based and online casino game is easy to learn and fairly easy to play. The point of Blackjack is for the player to get closer to 21 than the dealer without going bust. Thus, if the dealer has 18, the player must hit on anywhere from 19-21 to win the hand. Although Blackjack does not involve the type of complex strategy that you find with many types of poker, there are various techniques and tips that players can use to increase their chances of winning. These include basic smart betting tips, utilization of a strategy chart, and incorporating some basic techniques related to the game.
Five Smart Online Blackjack Playing Tips
Although these tips from Bonus Bunker are designed for Blackjack, some may also be applied to other forms of online gambling.
1. Utilize the Blackjack free practice mode and learn the game prior to betting any real money. You may also use this mode as a warm up prior to playing for cash.
2. Memorize the Blackjack strategy chart in this article so that you can make quick and correct decisions.
3. Use the 5% rule when wagering. That is, never bet more than 5% of your bankroll on a hand. This will allow you to play more hands.
4. Be sure to change the amount you bet in relationship to how much you've won or lost. Never increase yourbet when you lose in an attempt to make up for loses. Never exceed the 5% rule when you increase the amount you wager.
5. Do not attempt to beat the dealer. Remember that the point of the game is to get as close to 21 as you can without going over 21.
Blackjack Strategy Chart
The truth is that there is no way to card count when you play online Blackjack as the cards are reshuffled before each deal. All outcomes of the online version are computer created by random number generators (RNG). Because there's no way to tell which cards have already been used when you're playing online Blackjack, a strategy chart like the one below that incorporates likely outcomes can be invaluable. The chartinforms players as to when they should hit, stand, and double down. It's designed for thoseplaying with four or more decks and if the dealer has to stand on soft 17. By the way, we have found that this chart also works for common variations of Blackjack. This chart has been developed on the premise that one of the dealer's cards will be exposed. Thus, in utilizing this online Blackjack strategy, you want to compare the dealer's card to what you are holding. The strategy chart then tells you how to proceed.
Five Online Blackjack Tips for Winning
Along with the strategy chart and the five smart playing tips above, we're offering you some important tips that you can use repeatedly. These include:
When holding nine or less always hit.
If you have 17 or higher stand.
If the dealer's upcard is 7 or greater, then hit if you have 12 through16. Otherwise stand.
When you hold 12 through 16, hit when dealer's upcard is 7 or higher, otherwise stand.
If you hold, 10 or 11 total, double down if they total more than the dealer's upcard.
If you hold 10 or 11, hit if your cards total is less than the dealer's upcard.
Martingale System
When playing online Blackjack, you may be tempted to play some version of the Martingale System, which has players double up after losing until they win a hand. Once they win, they go back to playing their basic unit bet. After all, many such gambling systems have been devised specifically for bets that carry even odds, such as online Blackjack. However, we know that statistically such systems don't work since all outcomes in the game are random. Thus, it's not advised that you use the Martingale System or other such systems designed to make up for gambling losses by risking increasing amounts of your bankroll.
Play the Flow
One thing every online Blackjack player must do is to play the flow of the game. There will be times when your cards are simply terrible and other times when they can't be beat. Learn to recognize both situations, taking advantage of the times when the cards are flowing your way. However, you must also learn to quit when you are ahead. If you win and win and win, then eventually you will lose and lose and lose. So when you're on the plus side be sure to walk away with some cash in your pocket. Be a smart player and make sure that you not only understand the basic game, but that you are familiar with any variation you may decide to play. Also, take some time to become acquainted with the specific Blackjack table on which you are playing, as these often have Double Bet and other features that you don't want to accidently activate. Good luck at the Blackjack table!