You'll discover that there's a wide range of casino games that you can play at many of the online casinos you can link to through Bonus Bunker. Some casinos will primarily feature the big four, Blackjack, Baccarat, Craps, and Roulette, while others will carry a wider range of games, which may include Pai Gow Poker, Keno, and Casino War. Other games such Bingo, Slots, and Video Poker may also be featured. Various online betting sites also include poker, which is not considered to be a pure casino game, and it is usually kept separate from the casino area. This is partly due to the fact that poker is seen as being a game of skill and almost all of the other games mentioned above, except Blackjack, are pure games of chance. Here are brief descriptions of many of the casino games that you can enjoy at the quality sites offered through Bonus Bunker.
Casino Games
Slots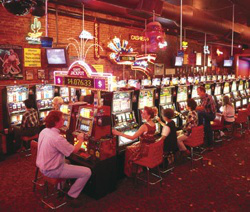 Slot machines, which are also known as Pokies and are similar to Fruit machines, are the most popular games at online and land-based casinos.
Roulette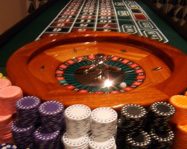 Along with Blackjackand Craps, Roulette ranks as one of the most played table games at any casino.
Blackjack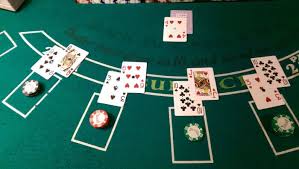 Blackjack is the only casino table game that involves skill, and which, therefore, may be played using strategy.
Game Details
Baccarat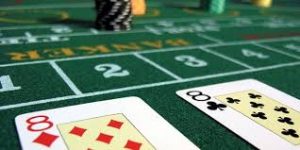 Baccarat is a card game in which a Player and a Dealer compete against one another during each hand.
Game Details
Video Poker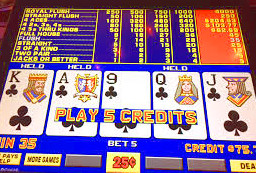 Video Poker is a game that is a bit like a slot machine and a bit like the game of poker.
Poker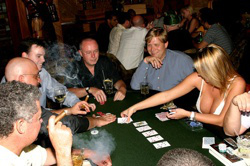 Poker is not considered to be a standard casino game, although it is associated with casinos. Poker is a game of skill, unlike most other games involving gambling, and it is one of the few where players compete against one another and not against the house. The most popular form of poker is Texas Holdem where players get two hole cards each and then share 5 community cards, making the best 5-card hand possible from any of the 7 available to them.
Craps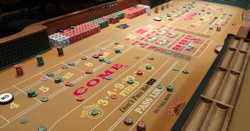 Craps, which is one of the most exciting casino table games and one of the more complex, is a dice game that features various many different types of bets. It can be intimidating for many beginning players. However, of all the bets, the Pass is the most fundamental, and it is the one wagered on by most players.
The Pass bet pays even money and is won if the shooter immediately rolls a 7 or 11 or, if after rolling a "point," which would be a 4, 5, 6, 8, 9, or 10, they roll again and prior to hitting a 7 they roll the same number when they made their point. (Note: if on the first roll of the dice a 2, 3 or 12 comes up, you automatically lose and a 7 on the second roll also results in a loss.)
Game Details
Bingo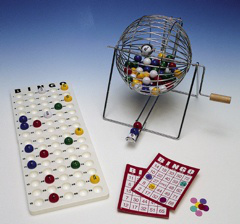 This is one of the best-known gambling games in the world. Players are given cards with the letters of the word Bingo running across the top on the horizontal and, underneath each letter, on the vertical, is a row of 5 numbers. The Caller picks numbers and announces them; if a number is on the player's card he/she fills it in. There are various forms of Bingo, but in the most common type a player wins if they fill in the numbers in either a horizontal or vertical a row, on a diagonal line, or fill the four corner numbers on their card.
PaiGow Poker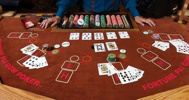 This is not a poker game, but rather a casino table game. Players compete against the Dealer. The game is played with a regular 52-card deck plus a joker. The joker serves as a wild card to complete straights and flushes. If it does neither, then it's an ace.
A Player and Dealer each receive 7 cards. From those 7 cards, they make two hands: the first is comprised of 2 cards and the second of 5 cards. The 2-card hand is called the small and the 5-card the big. The small is ranked as either a pair or by the high card and the big is ranked as poker hands are. (In some versions the Ace through 5 straight is ranked higher than the King high straight.) The Player's hand is compared to the Dealer's. If each wins one of the hands, then it's a push; if the Player wins both, then they win the bet, and if the Dealer wins both, the Player loses their wager.
Other Games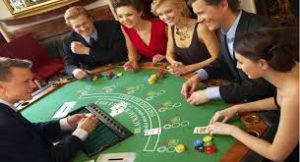 There are various other games available at online and land-based casinos. Some of the online casinos offered through Bonus Bunker may also include Let It Ride, Pontoon, and Three-Card Poker, as well as various progressive games and slots, and variants of standard table games, such as Blackjack and Roulette. For more information on the most popular games see our pages devoted to explaining in detail Blackjack, Baccarat, Craps, Roulette, and other exciting casino games.
Casino War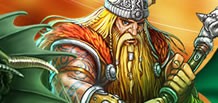 If you played the card game War as a child, then you've played what is in essence Casino War. One card is dealt to the Player and one to the Dealer, whoever has the highest card value, wins the hand. Numerical card values are ranked as they are in poker, face cards are all equal to 10 and an ace is ranked the highest. In the event of a tie, the player may elect to surrender and lose half their bet or to play. If they play, three cards are burned and each participant receives another card. The highest card wins. Casino War is a registered trademark owned by SHFL entertainment, Inc.