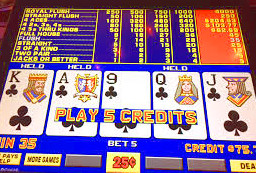 Video poker machines have become very popular at online casinos. These machines are interesting in that they are a combination of poker and Slots. Due to the fact that they are poker based, they are unlike most table games and Slots that have outcomes based on chance. Thus, that means the Video Poker involves a certain amount of skill and strategy.
There are many different versions of Video Poker available with the classic being Jacks or Better. With Jacks or Better in order to win a player must be holding a minimum of a pair of jacks. Two spins are involved in each round. First, the player makes their bet and, for multiple line versions, they may also choose how many lines they want to bet.
The reels spin and come to a stop revealing the player's hand. The player then decides which cards they want to keep and which they want to discard. They spin the reels one more time to be dealt their final hand for the round. How much a player wins depends on their hand ranking and how much they wagered. Winning hands are paid according to the game's pay table.
Playing Video Poker
The two most basic video poker games are Jacks or Better and Tens or Better. The names say it all. With the former, players need at least a pair of Jacks to win some cash, and with the latter, they require a pair of 10s or higher. Basic games use a 52-card deck and do not utilize any Wild Cards. There is a payout chart that offers the most for a royal flush and the least for the lowest allowable pair. Playing these games involves a simple five-step process. The process includes:
Making your wager of one through five coins.
Pushing the deal button.
Selecting which cards you want to hold.
Clicking on the deal button again.
The result is a payout or the loss of your bet.
If there is a payout, you will be asked to either choose or negate the double up option. Here's how it works:
a. Five cards are dealt with one is face up.
b. From the four face down cards, you choose one.
c. If it's higher than the exposed card you double you cash but if it is lower, you lose your earnings.
The pay table on the machine determines payouts. With Video Poker you are not playing against other players or the dealer. You are trying to get the best hand possible and at least the minimum hand needed for a payout. Once a hand is settled, it's then time to deal the next hand or to cash out.
Jacks or Better or 10s or Better
If you enjoy poker with no frills, then a basic game such as Jacks or Better or 10s or Better is for you. These two Video Poker games play like a genuine game of Five-Card Poker. The payouts are simple to understand and hands may be played quickly since your choices of what to hold and discard are almost always very clear. But if you like more complexity, such as the chance to play many hands at once, or games with different wrinkles, such as Wild Cards, then you may find either ot these games to be too basic. However, even of you don't stick with Jacks or Better or 10s or Better, it's suggested that you start playing Video Poker on one of these machines. Doing so will allow you to understand the intricacies of basic Video Poker strategy prior to playing a more complex version of the game.
Video Poker Tips for Basic Games
There are two sets of Video Poker strategies—those for the conservative player and those for the aggressive. The style you want to play is up to you and that's usually determined by the size of your bankroll and your comfort level with increased risk.
Conservative Player Strategies
Your bankroll for this session is between 2% and 5% of your total bank.
Make the smallest bet possible.
Increase bets by one coin after winning with three of a kind or better.
If you continue to win, increase your bet each time by one coin.
Once you lose, go back to betting one coin.
Quit as soon as you increase your bankroll by 20% or lose 50% of the amount you've brought to wager.