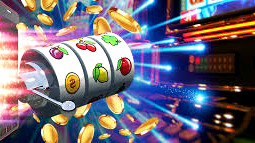 Fruit Machines are often confused with Slot Machines due to the fact that in essence at first glance they look alike and, over the course of time, many online sites use the terms "Fruit Machines" and "Slots" interchangeably. However, these devices are quite different from Slots in that they offer players unique features and they play quite differently. The unique features make them very attractive to certain types of players. Bonus Bunker takes a look at these very interesting games of chance and skill that have been popularized in the U.K.
Examining Fruit Machine Features
The distinctive features that define Fruit Machine include the nudge, hold, cash ladder, and bonus trail. With the randomly triggered nudge feature a player gets to choose a specific reel and "nudge" or move it into place to produce a winning combination. This gives players much more control than they would normally have when playing a Slot Machine. The hold feature also offers the player control over possible results. With the hold, a player may keep one of more reels still while the others spin. Thus with part of winning combination being "held," the player has a much better chance of creating a winning mix of the reels. This can greatly enhance their payout. If you have fast reflexes, you can maximize prize values via the money ladder. As you move up the ladder, earning cash as you collect certain icons, you can try to capture maximum value as you focus on hitting the highest bonus amount. You do this as the machine lights up various amounts quickly, and you hit the select button at the right time. Players do require fast reflexes and good hand-eye coordination to benefit from this exciting feature, which can quickly multiply cash awards. The bonus trail, which varies from machine to machine, is considered to be the most exciting aspect of a Fruit Machine. This feature calls upon the player to utilize two different techniques. One method involves moving around on the machine to hit certain symbols on the reels and the other is focused on hitting the right flashing light on the money ladder to receive a bigger payout. Hi or Lo? After every win, a player may select the Hi/Lo feature, where allows them to guess which will come up next, a higher or lower bet? They may, instead of being asked about the Hi/Lo, be asked to guess if an even or odd number or a certain color will be revealed. Whatever the case may be, if the player guesses correctly they double their winnings. If they are wrong, they lose everything!
Origins and Basic Differences
Fruit Machines have been popular in British pubs and arcades for years. The original ones did feature fruit themes and icons, but newer versions offer much more thematic variety. Although they are a near-cousin to the Slot Machine, an American invention, they are also very much unlike their close relative. Known for their ability to entertain and amuse players, these games of chance also call on a player to develop and contribute certain skills. This makes them quite different from the Slot. The nudge and hold features and the bonus trail ask a player to utilize specific abilities including hand-eye coordination and quickness.
Where to Find Them
It's interesting to note that as Fruit Machines have been incorporated into online casinos, they have become more like Slot Machines. However, a true Fruit Machine is still a different animal than a Slot. Over the past few years, U.K. sites have begun to offer these popular betting devices. Thus, you will find them online. Some of the more popular games include Jack Hammer, Boom Brothers, Alien Robots, Blood Suckers, Devils Delight, and Jackpot 6000.
Playing Tips
Here are some tips that Bonus Bunker has found to be valuable when playing Fruit Machines.
Carefully use the hold and nudge features; choose reels wisely to optimize your chances of winning.
Bonus Trails can vary a lot, so make sure you understand how the one on your machine works.
To benefit the most, play when you're able to concentrate and react quickly.
Chose the Hi/Lo feature at your own risk; it's not considered a good bet.
Might Slots Borrow Features?
Some features, such as the Hi/Lo, are not unique to Fruit Machines, as they can be found on Slots, and certainly Slots offer a variation on some of the other features. But Slots Machines provide players with a different type of experience, which is usually less skill based. Although a lot of the Fruit Machine experience is still focused on chance, it does call upon some techniques that most Slots do not require.
Finding the Right Machine
Are you a traditionalist, looking to play some of the classic three-reel Fruit Machines offered by online casinos? Or are you interested in the newer ones, which, like Slot Machines, feature many more reels and paylines? Whatever the case may be you should take some time to become accustomed to any online Fruit Machine with which you are not previously acquainted. If there is a free play mode, take advantage of it. This will enable you to learn how various features work and to develop an understanding of specifics related to the game. Fruit Machines offer players great value in terms of potential winnings and ongoing amusement.