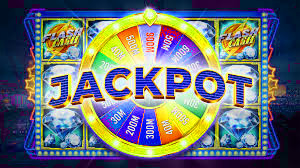 There are hundreds of different types of machines, each of which is centered around a theme, with some of the most popular ones focusing on super heroes, movies, TV shows, and sports.
Slots are comprised of various reels, with 5 reel versions now being very popular. Each reel has an assortment of numerous icons on it, all of which are directly associated with the theme. Some icons act as wilds or multipliers, increasing player winnings. Many machines offer bonus rounds and over 200 paylines. Players wager using tokens and may select how much they wish to bet as well as how many lines they want to play.
Once all betting choices are made, the player spins the reels and when they come to a stop the player may win tokens, lose their wager, or be sent into a bonus round. Slot machines take no skill whatsoever. Online versions have a range of payback rates, but many offer 96 cents or more back for every dollar bet. Land-based slots payback rates are much lower, with many offering just 70 cents or less back of every dollar bet.
The most popular and profitable form of gambling at online casinos is the Slot Machine. Slot Machines, which have always been popular at land-based casinos, offer players hours upon hours of high-powered entertainment and the possibility of wining a large amount of cash at any moment. It should be noted that there is no such thing as a Slot Machine strategy, as this would involve using knowledge and skill to turn the odds of winning in your favor. But there are things that you can to improve your chances of staying in the game. Here are some tips on Slot Machine play.
Progressive Slots
Progressive Slots are extremely popular due to the fact that they can payoff in the millions of dollars. Progressives pool a certain percentage of the cash spent on every one of those specific machines either in that one casino or sometimes in numerous casinos run by the same company. Thus, you can have thousands of machines pooling jackpot money. When someone hits the jackpot, they are reaping the benefits of millions upon millions of dollars bet and lost. Note, many progressive Slots will not offer the big prize unless you spend the maximum amount on each turn. Thus, if you are trying to hit the progressive make sure you check and see if there is a minimum you must wager to do so.
Jackpot Slot Machine Play
The slot machine play outlined here is focused on going for the jackpot. If that's what you're going to do, you want to play a tight machine that carries a high payout percentage and that gives you value on the maximum bet. There's no telling if you will win, but at least the next time you play an online Slot Machine you'll be giving yourself the best chance to take home the best prize possible.
High Payout Percentages
The first thing online slot machine players need to do is to make sure they play games that have high payout percentages. You cannot control how much an online Slot will payout, but you can choose to play one that has a high payout percentage. The payout percentage does not relate to how often a machine will hit. Instead, it is determined by how much of what is invested in the machine is paid back to players. As an example, an online slot machine with a 95% payout percentage will eventually payback $0.95 of every $1.00 spent on that machine. Sound slot machine play dictates that you only use your bankroll an online slot machine with a payout percentage of 96% or better. This is a key aspect of your basic slot machine methodology. The best machines are those that offer payout percentages of 99% or higher. And by the way, they do exist.
Are Loose Machines Good?
Slots that payout frequently are known as "loose" machines. Some people believe that the looser the machine the better. That is not necessarily true. When you play an online slot machine you have to decide if you will be happy winning various small pots, as you are likely to do on a loose machine with a high payout rate, or if you'd rather go for the big score, which is more likely to occur with a tight machine that pays off fewer times but has a higher payout percentage. To give yourself the best chance of taking home the big prize go with a tight, high payout percentage online slot machine.
Paylines and Reels
Today when people play a Slot online, they are often looking for five or even seven reels and 25, 30, 50 or more paylines. Sometimes people feel the more the better in terms of winning some cash. Often these machines offer huge payouts. But such machines are not always the best to play when it comes to making the most of your cash. As an example, consider two types of machines. Look at an online slot machine with three reels and one with five. Let's say the three-reel contains 10 symbols on each reel and two blanks between each symbol for a total of 30 stops per reel. With three reels, the total number of possible combinations would be the product of 30 x 30 x 30, which is 27,000. There are 27,000 possible combinations but only one that will give you the jackpot. Your chances of making the big score are 1 in 27,000. Let's say the five-reel machine has the same number of symbols and blanks. Now with five reels the number of possible combinations is the product of 30 x 30 x 30 x 30 x 30. This equals 24,3000,000 possible combinations. If the jackpot is won by matching five identical symbols, you have a 1 in 24,3000,000 chance of hitting the big prize. Which is more likely to yield a jackpot. The three-reel one is.
Weighing Bets, Payouts, and Odds
Now consider the maximum bet and the maximum jackpot. If the three-reel online Slot Machine has a $5.00 maximum wager and pays $15,000 and the five-reel online Slot Machine calls for a $5.00 max wager and pays a $15,000 jackpot, then the three-reel machine is the better bet because the odds are more in the player's favor. Even if the payout on the first machine was a bit smaller, such as $12,000, the three- reel Slot is still more likely to pay more quickly on the jackpot and is the better bet. If the payout for the three-reel were between $5,000 and $9,000, then the latter slot starts to become more appealing despite the daunting odds. The fact is spending $5.00 to win $15,000 starts to look a lot better than paying the same amount to win $9,000.